About GR Mold
Established in 2002. GR Precision Mold - a leading supplier of precision molds and tooling parts, as well as turnkey solution, offering professional services for automotive, household,electronics, packaging industries, as well as the plastic parts of industrial tools and equipments.
Plastic Injection Mold + Plastic Injection Molding Production Services.
---Totally facility size:7000sqm
---105 Well trained employees
---Maximum Mold Size to 22 Tons, 2.3 meters
---ISO9001:2015 & ISO14001:2015 process Approved
---90% Molds had been exported to North America and Europe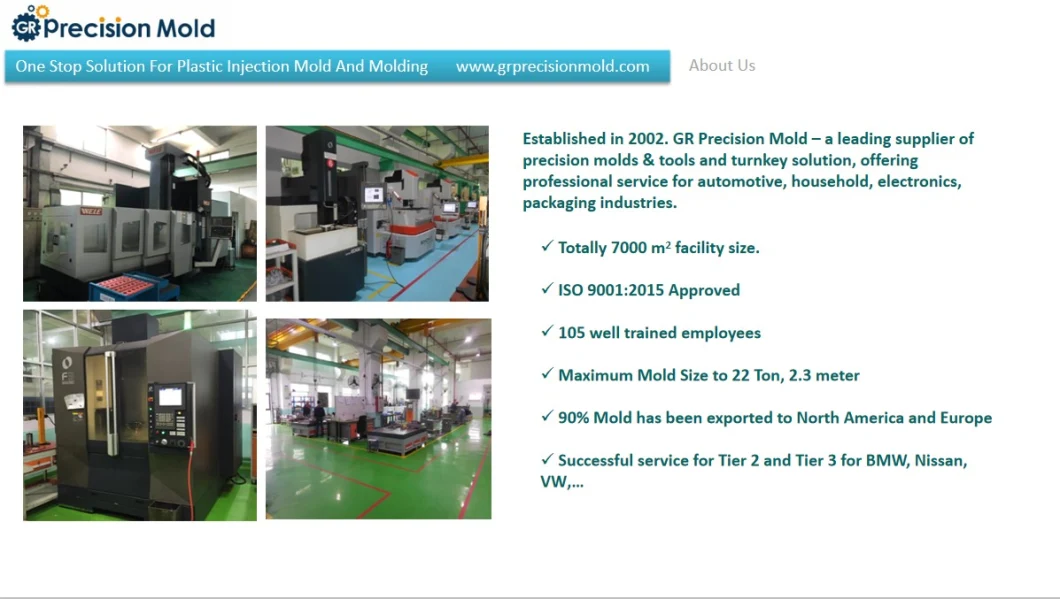 ISO 9001:2015 & ISO 14001:2015
In order to organize processes and improve the efficiency of processes, we carry out strictly the ISO9001:2015& ISO14001:2015 process.

GR Follows the guidelines of the ISO9001 standard and meets customer requirements and statutory and regulatory requirements.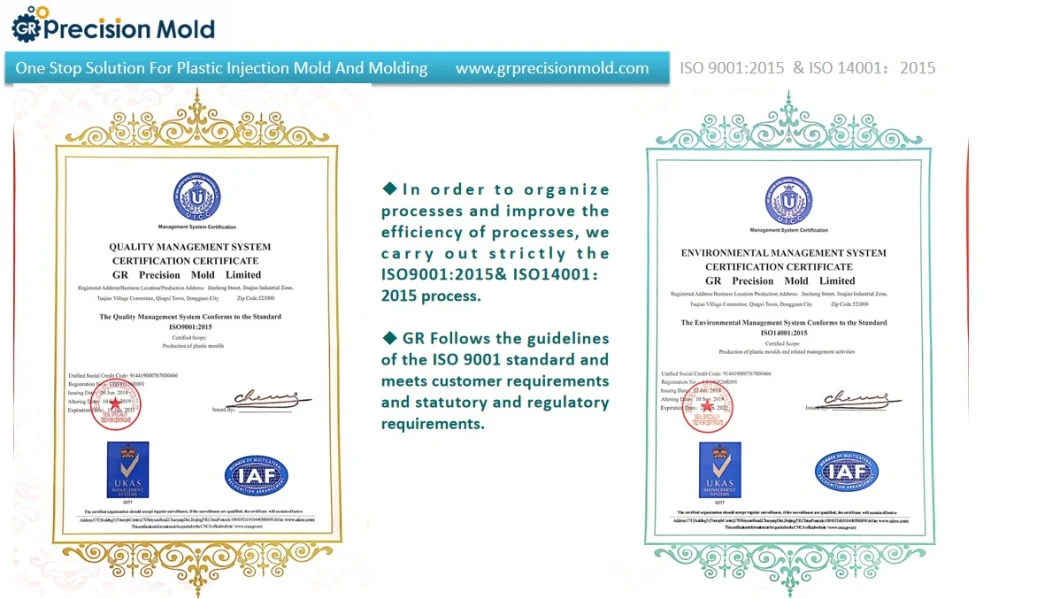 GR Precision Mold Team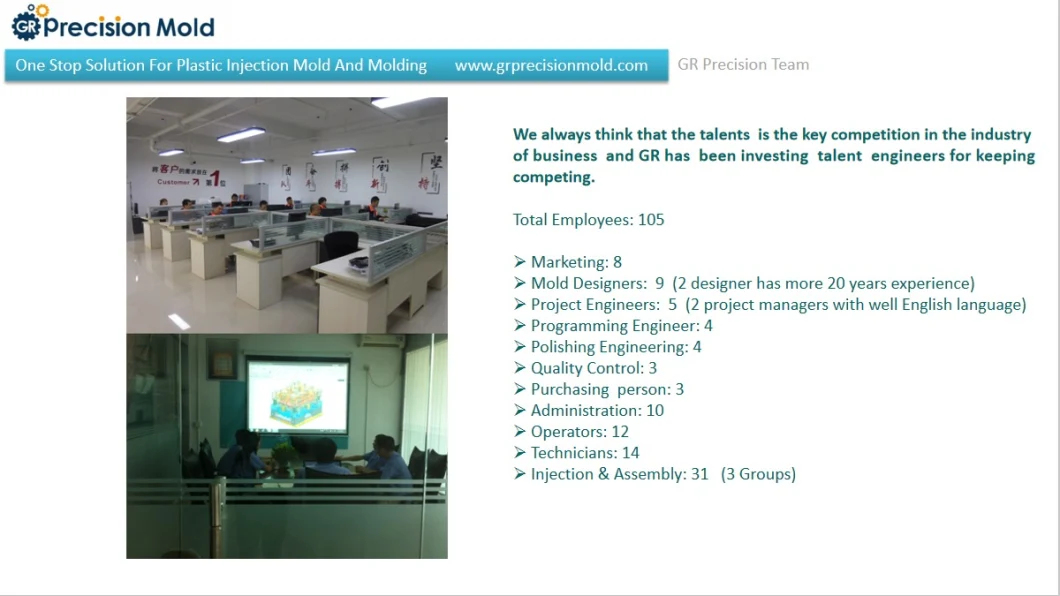 Plastic Injection Mold Types
We have two main directions to develop the business, firstly are eager to do the precision mold and the tolerance can reach to 0.005mm, the other direction on large size mold and mold dimension reach to 2.3 meters.

The main mold types including: Two Shots Molds or Over molds Large Size Molds Prototype Molds Single Cavity Molds Multiple Cavity Molds Three Plate Molds Insert Molds Robot Transfer Molds Hand Transfer Molds.
We are specialized in manufacturing injection mold and plastic parts, which are applied in automotive, household appliance, electronics&medical device industry.

Production description

Mold Steel

NAK80, SKD61, SKD11, S45C, P20, 718H, 738H, S136, etc.

Product material

PE/PS/ABS/PA/PA with GF/BS/PC/PP/HDPE/POM/PA6/PA6+GF/PVC/ NYLON/PMMA/PET

Runner

Hot/Cold runner

Dimension&Tolerance

Based on customer's drawing requirement&up to ±0.005MM

Fabrication Equipment

Sodick Wire Cut, Sodick EDM, CNC, die spotting machine, Haitian Injection machines

Surface Treatment

Polishing, Texture, Glossy, Sandy, etc.

Inspection Equipment

CMM, VM, Rockwell Hardness Tester, Projector, Push-pull force meter

Software

Auto CAD, PRO/E, UG, Solid Works, IGS, CAD/CAM/CAE

Quality Control

Conducted by ISO9001:2008&IATF16949

Cavity Number

Single or multi-cavity

Mold life

500k-1000k shots

Service

Warm and quick response service will be provided by professional oversea sales who have business with customers from the US Market, European markets, and Asian markets, etc.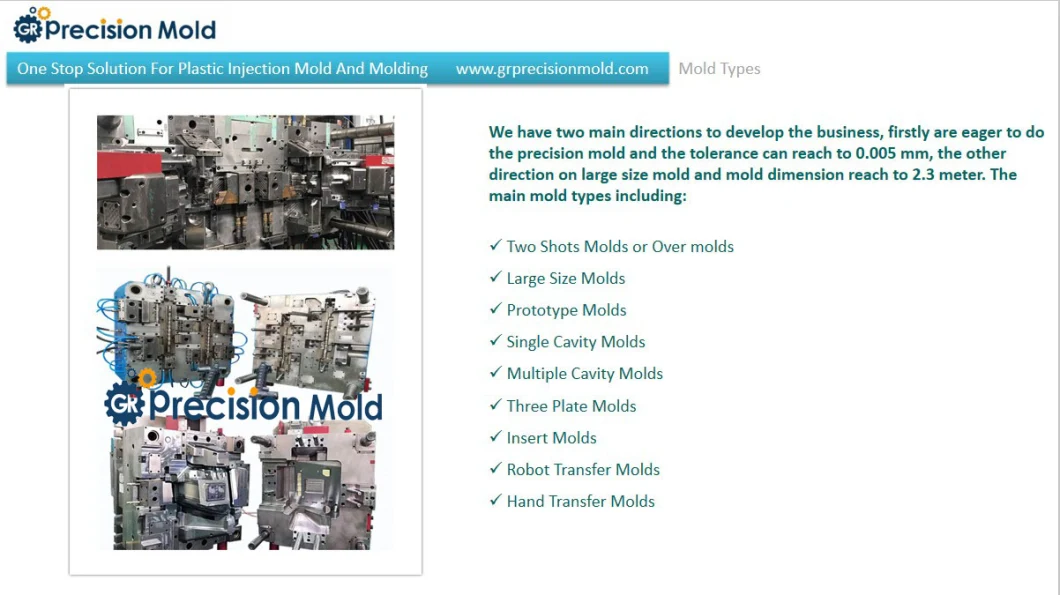 Mold Design Support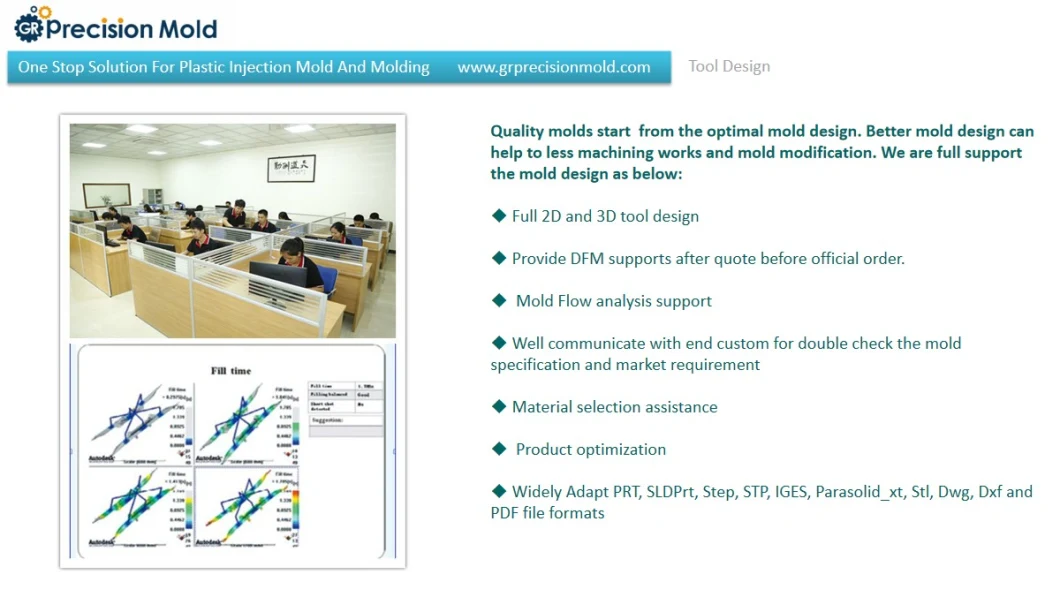 Main Markets We are serving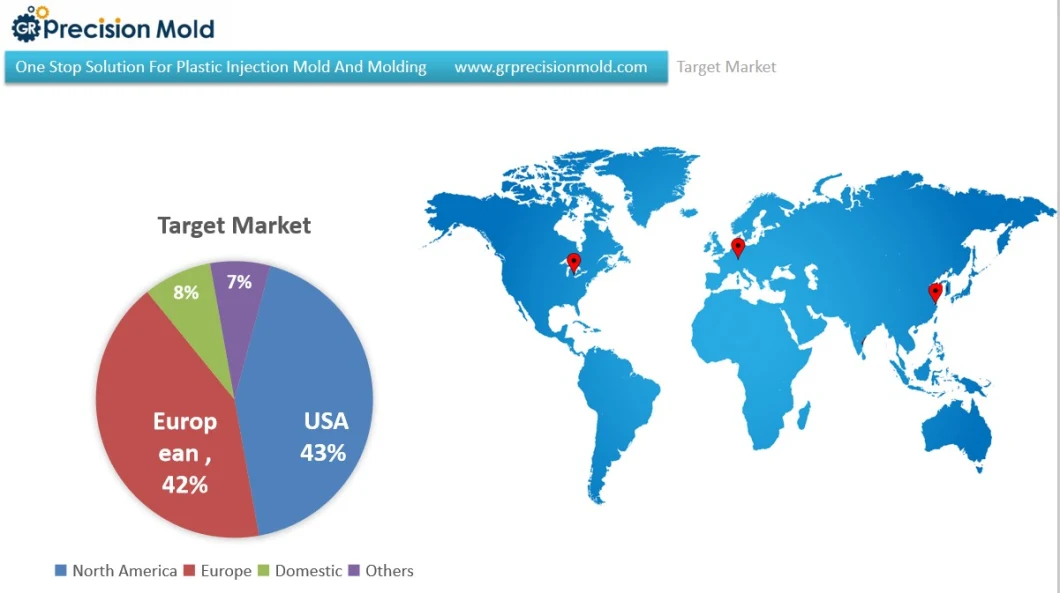 Take one case of DFM Reports for Example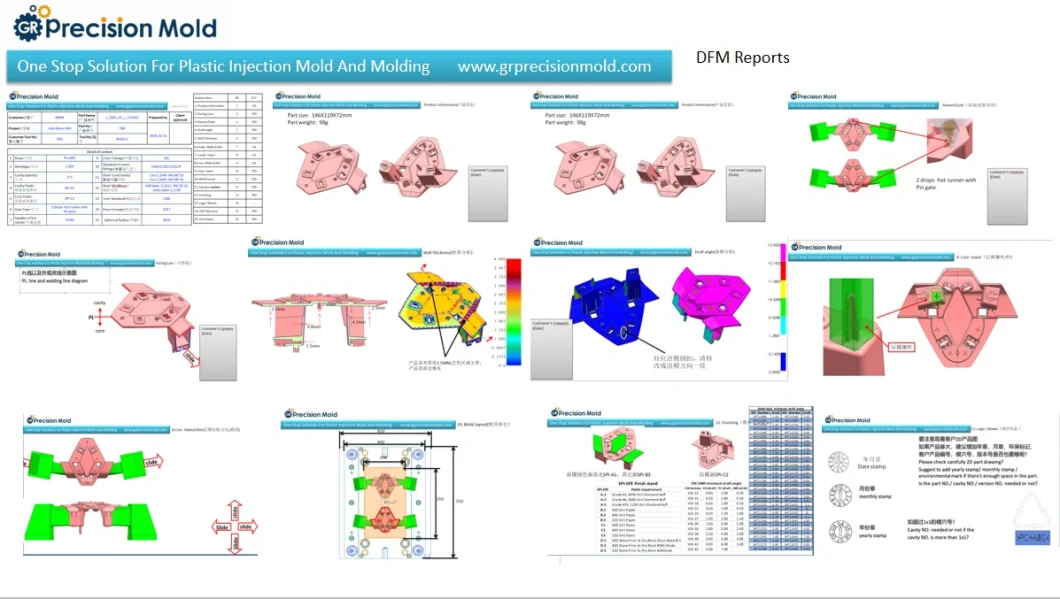 Take one case of Mold Flow for Example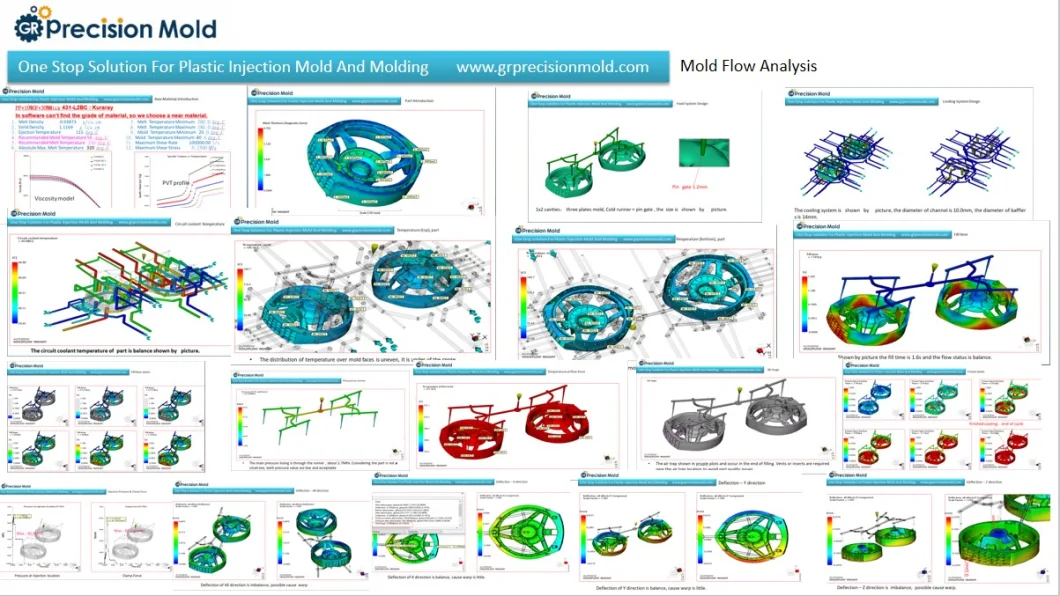 Project and Qulity Management
At GR Precision Mold, We understand the fact that the success of any project is dependent on the strength of the project team. Together, these professionals combine their experience in automation, tooling, automation, design, and prototyping to provide you with optimized manufacturing solutions that suit your needs. Each of our Project Team may include all or any of the following members:
Quality Engineer(s)

Project Manager

Design Engineer(s)

Manufacturing Engineer(s)

Tooling Engineer(s)
Quality molds starts from the optimal mold design. Better mold design can help to less machining works and mold modification. Ater full communication with end customers, we will have the first review meeting to find the best solution for the mold design.
Full 2D and 3D tool design

Provide DFM supports after quotation before official order.

Mold Flow analysis support

Well communicate with end customs for double check the mold specification and market requirement

Material selection assistance

Product optimization

Widely Adapt PRT, SLDPrt, Step, STP, IGES, Parasolid_xt, Stl, Dwg, Dxf, and PDF file formats.
We believe in molds are must be with high quality first, each process is inspected, optimized and verified that it has been done correctly. At GR, each individual involved has a responsibility to ensure that the strict tolerances are met by actively participating in our continuous improvement approach.

We take the pictures and videos for you when the mold is testing. We do the "Check list" before mold testing to make sure everything has been full prepared before mold testing Detailed pictures and videos help you to control everything even not on site The T1 reports will list all questions and solution way will provide all measurements for samples.

There are two important processes after mold shipping approval. It is small question in GR Precision but big problems for our customers. We do all mold checklist and inspect all mold components one by one to make sure everything has been fully prepared.
Well Mold Packaging
Good package and detailed pictures could help you to inspect the molds. Mold is well protected and packaged in a wooden box for shipment Submit "Shipment Report" to customer after mold shipment A full set of technical document is attached with the shipment Here we would like to take some auto parts for examples, GR team are confident to finish the complex structure and the delicate surface treatment of the molds.

1-Wrapped with a plastic bag or pearl-cotton protective packing material.
2-Put 5 layers of standard export cartons with a rigid protective layer.
3-Use glue tape to seal cartons.
4-Loading on the pallet with protective rigid corners
5-Loading container for sea shipping.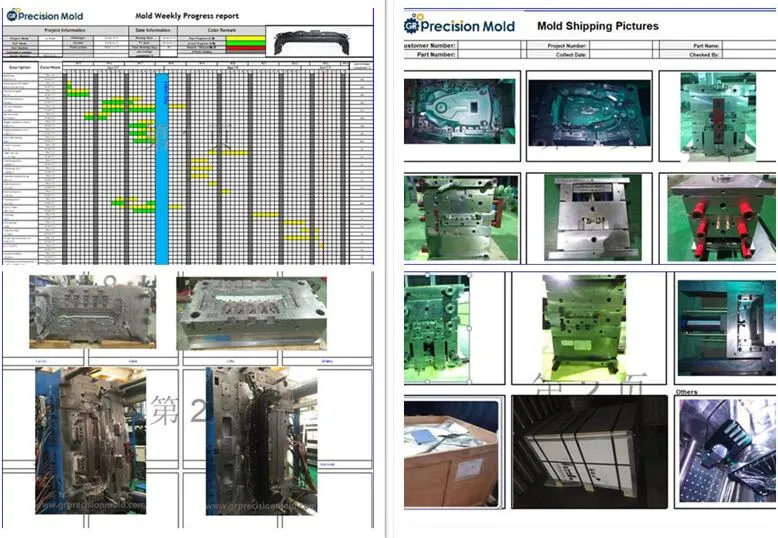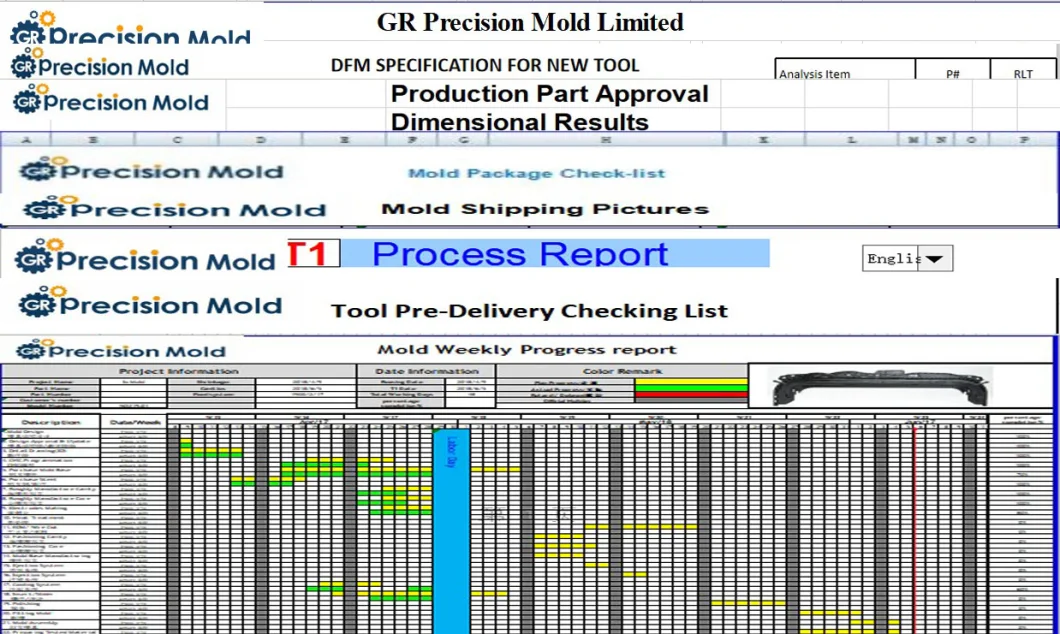 A part of Equipements list
GR Precision Molds is equipped with the latest manufacturing technology for higher productivity and accuracy. Shown here is some of our key equipment, tooling and fixtures that help ensure top quality in every mold we manufacture.
All custom machining capabilities are performed by a fleet of more than 30 pieces of advanced equipment, including:
8 CNC milling machines, including Takumi, FANUK, Mikron and others

3 EDM machines, including Charmilles, LG450,Super-450

2 CNC lathes, including Jet and Clausing Colchester

2 gun drilling machines, including TEDI, Fosdick, and others

1 Die spotting presses, including LS-200-1813

1 Toshiba horizontal boring mill

4 grinders, including Okamoto and others
Machine Capabilities
13 Molding Presses - 128 Ton to 1600 Ton, with production capability of small, intricate components up to large Housings and Equipment Covers. We have a big good relationship partner nearby, which is equipped with machines from 50 to 1600 tons including equipment for two-shot molding, gas-assisted injection molding, etc. This allows us to test a wide range of plastic molds and make samples for evaluation according to the customer's needs. 6 sets two-shots injection machine and have much projects involve in 2K tools.

In addition, we are also equipped with a complete inventory of secondary equipment to provide any additional processing our customers require. These include assembly, customized packaging, adhesive bonding, decorating, engraving, finishing, and a host of others. Quotes are available on a job-by-job basis, with rush and emergency services available as required.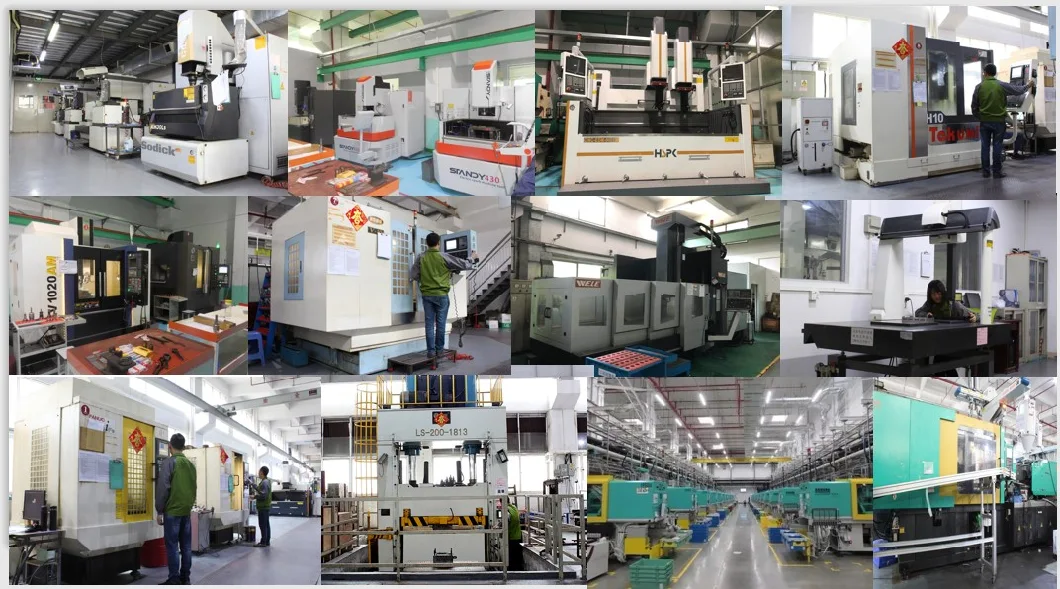 High Precision Machining
The part complexity that injection molding tools can produce requires equally complex machining services. A single mold build can utilize any number of unique manufacturing processes, from standard drilling to cutting edge 5-axis milling.
GR Precision Mold maintains all requisite capabilities, using them not only for injection mold tool building but offering them to customers on a contract manufacturing basis. Our capabilities are your capabilities when you contract our machining services for your custom machining needs.
When working with GR Precision Mold for your contract CNC machining requirements, a diverse variety of machining services are at your disposal. We offer CNC milling, Electrical Discharge Machine (EDM) wire cutting and CNC EDM, turning and lathing, drilling, spotting, boring, grinding, vibration and other finishing, polishing, and blasting services, and more.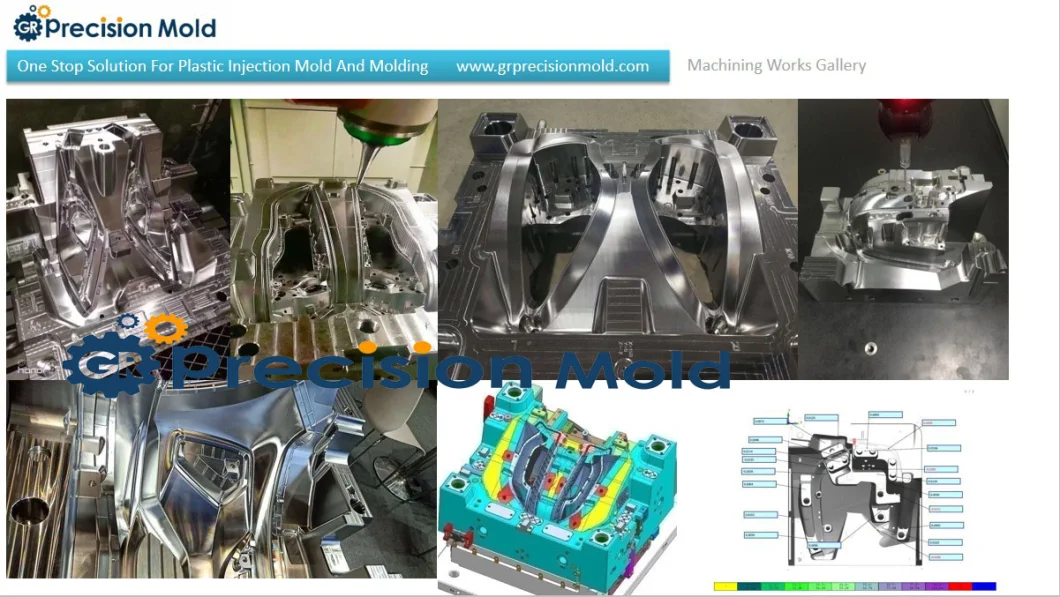 Customer Testimonials
"In the 5 years of doing business with GR Precision Mold. they have proven to be one of the most helpful and reliable vendors that we have had the opportunity to do business with. Their attention to detail and quick response time, when coupled with a dedication to high quality components has led to an extremely beneficial relationship for us here at Western plastic Co. Inc. As a company where one of our core values is cost effective products, GR Precision Mold fits the bill when looking for out sourced, high quality plastic components at a great value. If you have a need for plastic injection molded components I would highly recommend giving Jack Toos and his highly skilled and dedicated staff at GR Precision Mold an opportunity to win your business."
- Dave Mora
Vice President
West Tooling Co. Inc.


I have personally worked with GR Precision for over 5 years. Their customer service and quality are amazing, and their ability to expedite any last minute requests is what puts them ahead in a competitive market. Definitely an ideal partner to have!
Coey Quick, Purchasing Manager -
Engineered Components, Quaneex Building Products


Plastic Products supplies the delivery and quality that is so important for daily manufacturing operations. GR Precision also gives support and guidance in design and materials that a customer needs from their supplier to enhance features or reduce costs. The GR Precision team has a very positive attitude and will always help to meet a deadline for new product launches.
Jon Balth, Plant Manager,
Viking Ranger, LLC. Refrigeration Division


"I have worked with GR Precision Mold for many years. They are the "go-to" contactor for a wide variety of technologies from plastic injection molds and turn-key fabrications. I would trust Total GR Precision to handle any project or any injection mold. Their contact network and ability to assign projects appropriately always results in success."
Jona Cornelius
Rayerchem Tyco


Displays by Martin Sock Inc. has been doing business with GR Precision mold for over 12 years. They have made over 75 molds for me and offer exceptional service, fast lead times, and precision work. GR Precision mold is an asset to my business.
Normaner Blokin
Vice President, Displays by Martin Sock, Inc


I have been doing business with GR Precision mold in one form or another for about 11 years. They have served us with quality work and good delivery. They have state of the art equipment and a wealth of knowledge to construct quality molds. They are a pleasure to work with and take good care of their customers.
Jason Ashcraft
President, North Texas Tooling


"I have had GR Precision Mold built in China for years. They have ownership in a manufacturing facility in China. Go to their web site and you will see they have it all covered. I've spent many hundreds of thousands of dollars for injection molds with them and had great success. You don't have to deal with the language barrier, your dealing with GR Precision Mold.
If you have an injection mold need, I would really suggest going to GR Precision Mold."
Good Luck
Benny "Joe" Cottre II

Contact us
The company unites engineering competence, a large and fully equipped machine park and an experienced staff of highly trained personnel that provide a level of workmanship and machining precision rarely found elsewhere. Experience, close contact with customers, permanent operational feedback and our focus on innovation allow us to continually improve the quality of supplied molds, injection techniques and product excellence. From the original idea to mould engineering up to series production, GR Precision Mold is your partner of choice.
More information for the Plastic Injection Mould, please feel free to contact us.
| | |
| --- | --- |
| Company Name | GR PRECISION MOLD LIMITED |
| USA Support: | PO.Box#531, Buena Park, CA 90621 |
| European Support: | 199 route de Colombey 71370 OUROUX SUR SAONE France |
| China Facility Add: | JinQiao Industrial Park,QingXi Town,DongGuanCity,GuangDongProvince,China 523740 |
| Contact Person | Ms Wendy |
| Mobile Number | +86-18822837527 |
| Telephone Number | 0086-0769-82557812 |
| Website | pingxing2019.en.made-in-china.com |